By Scott Lawson Gondolier Editor – Aug 11, 2020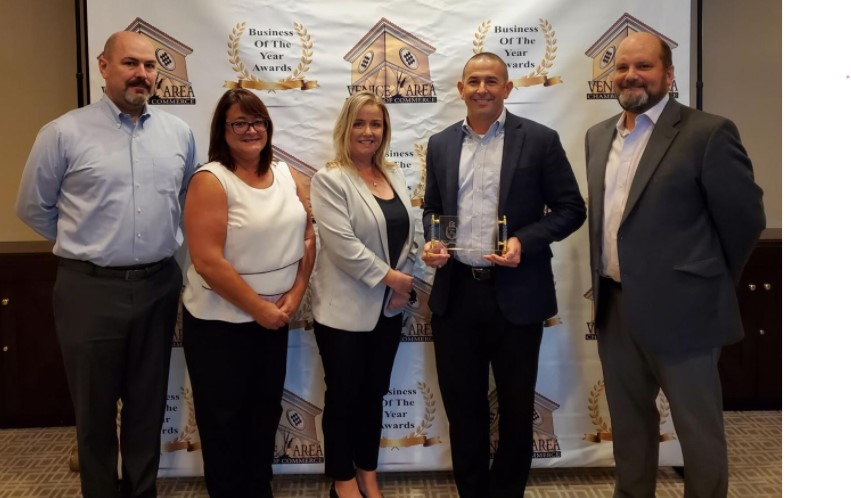 VENICE — Five businesses and one worker were honored Friday by the Venice Area Chamber of Commerce Business of the Year awards ceremony.
It was held in person — but at a distance.
The event, at Plantation Golf & Country Club, had social distance and mask-wearing rules in the COVID-19 era — but the celebration still brought smiles under masks and tears of happiness, according to Chamber Executive Director Kathy Lehner.
"It went so well and everyone was so accommodating to be with their masks on and socially distance," she said. "We did it properly."
Winners spoke in front of the gathering and then had their photo taken with their masks off at a different part of the facility. At the end, people were dismissed slowly, table by table.
"Going through all those logistics made it so much harder," she said. "A chamber is where we connect people, so we really didn't want to go virtual…but virtual is good in this moment"
But she did notice that, while there were fewer people at the event, people were paying attention.
"What was so nice was we've seen so much traction of pictures — so they've been able to say congratulations through social media," Lehner said. "Our winners are thrilled."
She also appreciated those who took part.
"Huge kudos just for continuing to go through the process…It's not for the faint of heart. You definitely have to be in business to be in business and this opens your eyes to that."
Service and Retail
The Business of the Year for Service and Retail is J2 Solutions Inc.
"It was a shock," owner Jess Fronckowiak said. "I wish my entire team could have been there."
He said he appreciated the other companies that were nominated throughout his — and other — categories.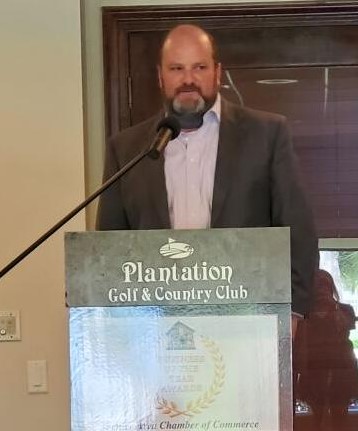 "One of the best things, Venice is a small town. I know a lot of my fellow business owners and I know they are good people," he said. "On a personal level, I know they do good stuff. They are very honorable, they have a lot of integrity."
Fronckowiak said he has been a judge for the competition in the past, so it gives him an insight into how difficult the decision can be.
"Everybody brings something to the table. I know it's a cliche, but everybody is deserving and — at times like now — just being in business is noteworthy and praiseworthy," he said.
Mostly, though, he wanted his team to know they are appreciated. He said they do "morning huddles" with their group but he'd like to dote on the team a bit more at public events — but COVID-19 prevented that this year.
"I wish our whole team can appreciate it, the applause. I wish I could spread that over to the team," he said.
The other nominees were Absolute Aluminum; Absolute Window & Door; Beechwood Builders; Bishop Construction Services; Burnett Painting; Classic Creations in Diamonds & Gold; Grace Air Conditioning and Heating; Kitchen & Bath on the Isle; Leopold Truck and Auto Repair; Patrick Air; Sports Clips Haircuts of South Sarasota; Venice Lifestyle Magazine and Venice Print Center.